SE2's Favorite Social Media Management Tools for Organizations on a Tight Budget
Essential social media activities and recommended tools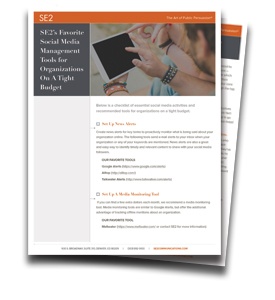 Social media doesn't have to consume all of your time and budget. There are numerous tools and resources out there that can do most of the hard work for you.
We've taken the guesswork out of selecting the right tools for the job. In this resource guide you'll find:
The best resources for finding great content to share with your social media community
Tools for managing your social media engagement
Resources to help you find new followers
And more…
Download our resource guide and see all of the free (or cheap) tools SE2 uses to manage social media for clients on a tight budget.